If you read my first
post
you know the two people who raised me were my mother and my grandmother. I'm working on a post for September that is going to be about my grandma Teresa because it is her birthday and she is the woman who made me realise that if I'm in a relationship that doesn't work that no matter how long it is going on for or how many things you have to bind you to this person, it is OK to get out.
While I was going research for the post I accidentally no... there was a computer glitch.... FINE...I went to Ancestry.com and decided to look up my family tree. I spent 2 HOURS

on that site and called my mother at 10pm while she was trying to get ready for work (she is a nurse at a nursing home and works 11pm-7am) to ask her questions. I discovered my grandma was still awake (even thought it was past her bed time) and started asking her questions. My mother had to nicely inform me that she was trying to get ready for work and needed to get off the phone. She was probably thinking what the hell did she do to get some psycho child.
I politely hung up with them and continued to sit on the site typing and researching the best I could with little knowledge. The next day I called my mom to get every one's birthdays (day month year) and put them into each person's profile. TADA!!! More information!!! Then other people who are long lost relatives have done family trees so I got more information. My employees thought I was crazy and laughed about how I'm very interested in dead people. I love these dead people!!
I even texted my brother to find out my father's parents names and TADA MORE INFORMATION!. If you haven't been able to tell by now I've got a new issue and might need to make an appointment with a therapist soon....it is becoming bad. I discovered that I'm 1/4 Russia on my dad's side and that the people on my mom's side REALLY love the name John, James, Joseph, Richard, Vincent, Louis, Ruth, and Cathleen. I've decided if I ever have kids (Yes Nikki I said I might one day do this) that the above listed names will not be used.

Ever

. Even if my imaginary husband begs.
I've also been Dreaming of owning a hooded scarf and I found this adorable one on Etsy.com and you can even buy the pattern to make yourself. I've tried knitting and crocheting things and I fail every time.....but I can make a some what interesting looking scarf type thing that maybe a dog could wear. My mom informed me if I'm nice and she is feeling like I should own it (come on mother!!!) she will MIGHT get me one. I love you mother of mine.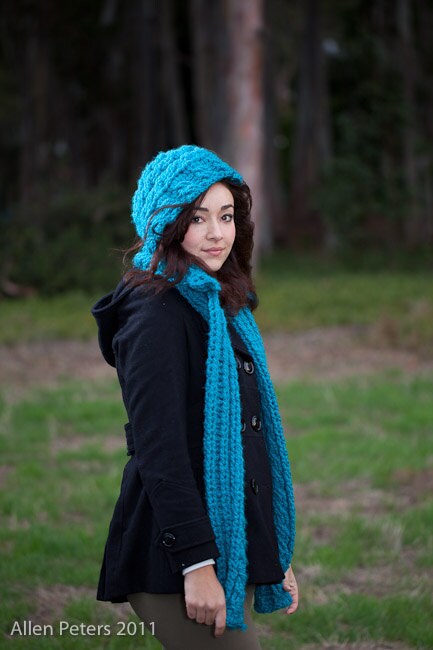 I hope you all had a wonderful weekend and til next time blog stalkers
xoxox