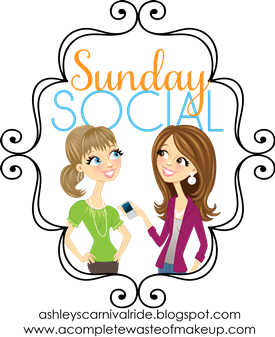 Happy Sunday Blog Stalkers! I know, I know....a lot of you are upset because tomorrow is Monday and you have to go to work. Today is like my Friday due to the fact that I am off the next two days...WOO!!! Since I'm in such a good mood I decided to do another little Link Up Party because I am just addicted to these things. Ashley and Neely have such cute blogs and are so much fun to read so I decided to Link Up with them, so lets get started on the questions
1. What is the first website you log on to each day?
Facebook and TMZ (what can I say I enjoy some gossip and drama now and then)
2. Give us some funny websites you visit that we need to know about
3. Pinterest or Facebook? Why?
Ooohhhh this is a little difficult. I prefer Facebook because if I go onto Pinterest I would be stuck in that situation where I would never get anything done :(. I have ADD I distract easily, haha.....OH BIRD!
4. Twitter or Instagram? Why?
Instagram....I just haven't really gotten into Twitter yet but I'm trying to use it more and more. I also like when people post photos of food, makes me want to try new places.
5. Favorite YouTube video...post it!
My friend
Nikki
and her husband introduced me to this guy....it can be very interesting at times, haha
.
6. Biggest online pet peeve?
When someone is bitching about someone else and doesn't have the nerve to actually state who they are talking to.
Also, the 1:00pm going to have lunch 1:30pm at chili's having lunch 2:00pm finished lunch....YUM! 2:15pm my tummy hurts from the lunch I just had at chili's...look, we get it YOU WENT AND HAD LUNCH TODAY! Please stop telling me every detail, you just filled up my news feed and I'm now mad at you. ***Cue passive aggressive post about you without saying who I'm talking about.***
Well thank you all for stopping by and to any new readers I hope you enjoyed!! Have a great week everyone <3